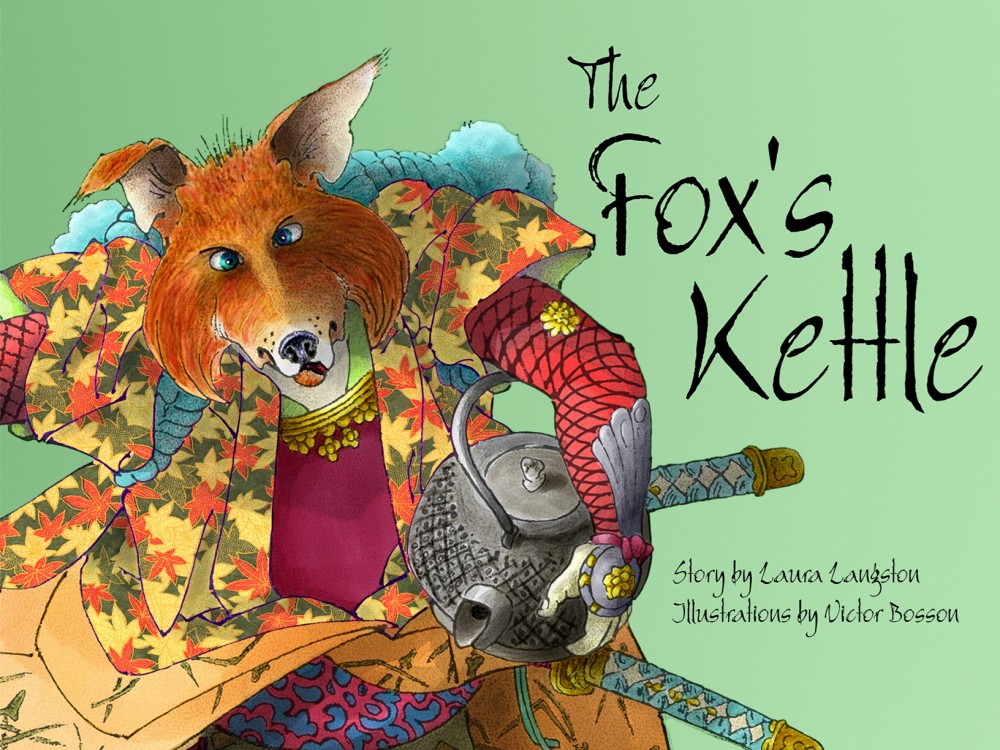 An original folk tale set in old Japan; The Fox's Kettle celebrates the triumph of a brave and gentle heart over the forces of cunning and trickery. Victor Bosson's delightful and brightly coloured illustrations reflect the Japanese woodblock prints of a bygone era. The Fox's Kettle is a beautiful story that will enthrall young and old alike.
Recommended reading ages: 5-12
Story by Laura Langston       Illustrations by Victor Bosson
The Fox's Kettle features read-aloud narration by author, Laura Langston and an evocative soundtrack and traditional Japanese Koto music.
The Fox's Kettle is an audio enhanced eBook. Listen to this sample!
Narrated by the author, Laura Langston. Sound Design by Crow Cottage Publishing.
Purchase The Fox's Kettle from these online stores.
The Fox's Kettle Reviews
"This delightful story weaves on from page to page illustrating the fortune that follows those who trust others and share their good fortune with them."
". . . the pictures are dramatic and engaging . . . the rich language makes it a perfect read-aloud for four-to-seven-year-olds; eight-and nine-year-olds may read it independently."
". . . told with the flowing style of a traditional tale. Langston blends strong characterization and story line with magic, power, and the satisfaction of goodness triumphing over evil. Colorful and detailed illustrations add to the story, which begs to be read aloud."
Author & Illustrator
Laura Langston is the award-winning author of eighteen books for children and young adults. Picture book releases include The Fox's Kettle which was nominated for the Governor General's award, The Magic Ear, and Mile-High Apple Pie which was translated into seven languages and was nominated for the Cilip Kate Greenaway medal.  A former journalist with the CBC, Laura lives in the Pacific Northwest with her family.
A graduate of the Alberta College of Art, 1974, Victor Bosson has been making innovative artworks for over 40 years.  Short listed for the prestigious Governor General's Award for his illustrations for The Fox's Kettle in 1998, Bosson also garnered awards from The Alcuin Society for his book design of the Magic Ear, 1995 and the Fox's Kettle, 1998. Victor lives in Victoria, B.C. Canada and continues to create digital art that is alive with stories and imaginative characters.
Awards
* The Fox's Kettle, short listed for the Governor General's award
* The Fox's Kettle, Outstanding, Canadian Children's Book Centre