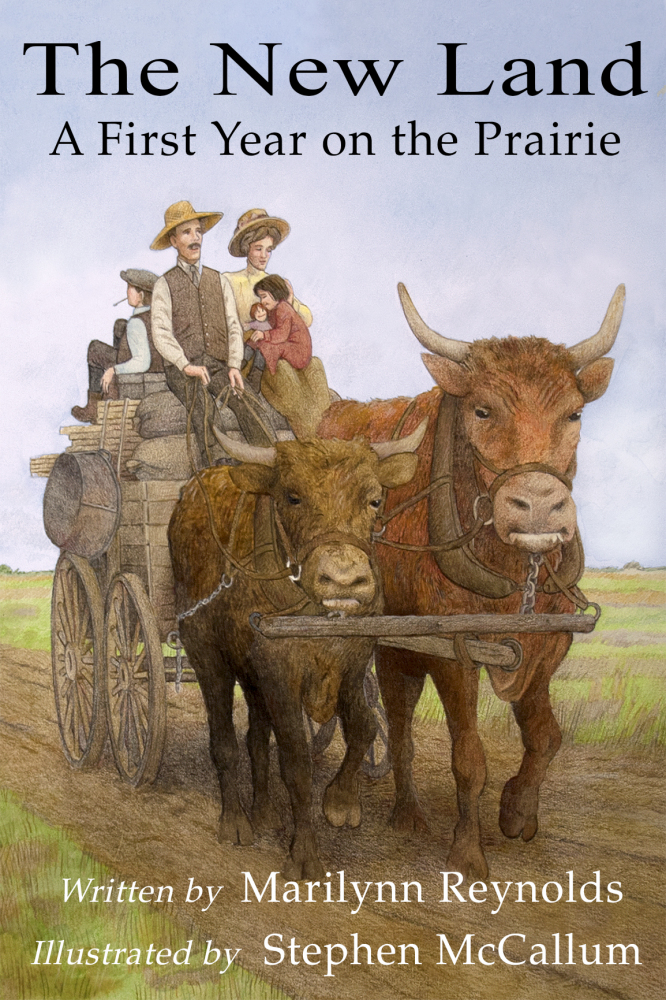 The New Land is the story of a 19th-century European immigrant family's first year of homesteading on the prairie. Mother, Father, John and little Annie travel across the Atlantic by steamship and then the country by train and ox cart to the prairies where they build a sod house and prepare for their first winter. In the Spring, they plant their first fields and rejoice in the prairie flowers and the flight of geese and meadowlarks.
Written by Marilynn Reynolds & Illustrated by Stephen McCallum
Recommended reading ages  4 – 8
Reviews
Softly colored, full-page pictures apparently created with colored pencils and chalks show scenes of the family's journey by sea, rail, and covered wagon; their farm in the midst of wide fields of grass; and the first fruits of their labor. Simple and descriptive, this quiet story with its gentle pictures can be read aloud or used as supplementary material when discussing the settling of the West.
From the start of the journey showing the family on a steamship waving good-bye until the coming of spring after a long lonely winter in their sod hut, The New Land explains how members of a pioneer family went about adapting their lives to prairie homesteading. It covers early railways, country stores, covered wagons, ox teams, wildlife, water divining, house building, preparations for winter and finally the joy of spring. The New Land is a grand example of the attractive books now available to Canadian children.
Author & Illustrator
Marilynn Reynolds is the bestselling author of a number of picturebooks from Orca, including A Present for Mrs Kazinski, The Prairie Fire, The New Land, A Dog for a Friend and The Name of the Child, published in 2002. Her book Goodbye to Griffiths Street won the Christie Harris Award in 2005. Marilynn Reynolds was born in Sudbury, Ontario, but has spent most of her life on the Prairies. This life, combined with her mother's and grandparents' experiences growing up in wide-open spaces, gave her a wealth of story material and a unique look at early Canadian life.
Stephen McCallum is the illustrator of a number of picturebooks, including Belle's Journey, The Good Companion and The New Land.
Illustration, The New Land