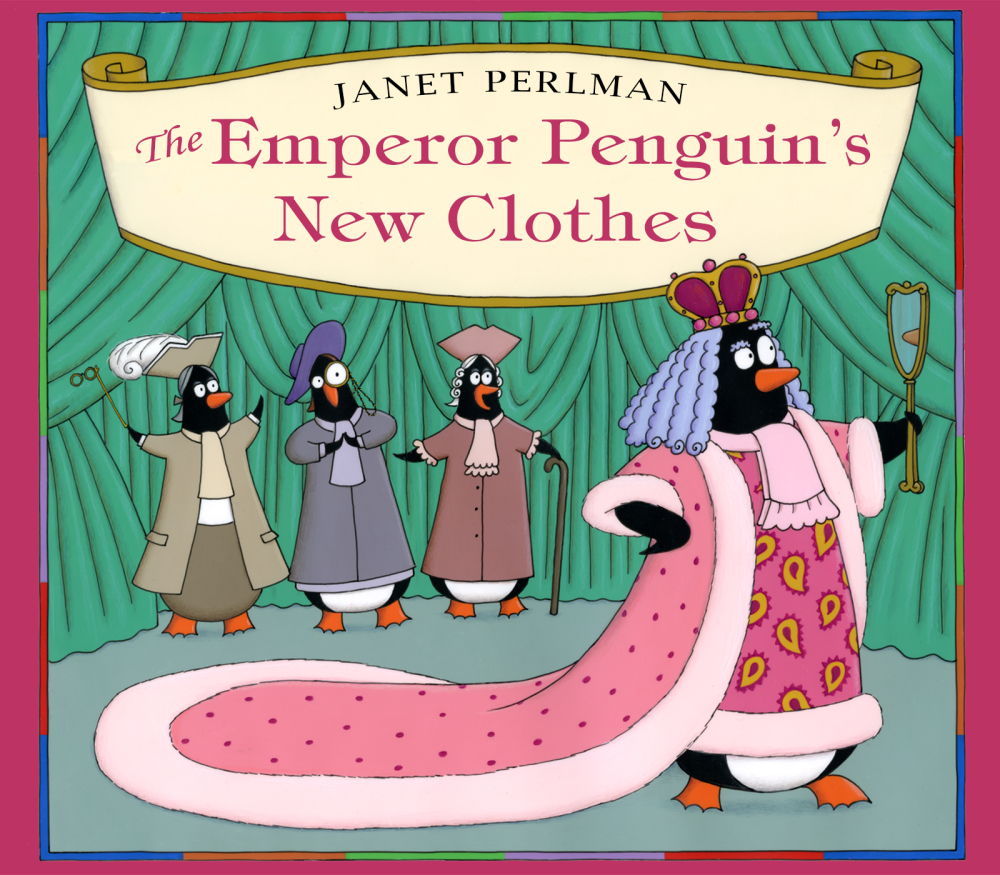 This much-loved Hans Christian Andersen classic is repopulated with a cast of penguins, and the Emperor is the best dressed of them all. When two scoundrels convince him that they can make him a suit of magic cloth, it's not just the Emperor's vanity that is showing when he wears it in the grand parade for all to see!
Recommended reading ages  4 – 8
Retold & Illustrated by Janet Perlman


Reviews
Perlman (Cinderella Penguin) gleefully repopulates a Hans Christian Andersen classic with a dapper cast of birds. Antarctic ice, however, is nowhere in sight: the action devolves in a setting reminiscent of Versailles, and Perlman's penguins wear coats and powdered wigs. This formal attire heightens the impact of the finale, when the emperor appears in public au naturel, his white belly a startling sight. For her splendid pictures, Perlman applies ink and colored pencil to acetate, then backpaints each illustration; the colors stay precisely within the lines, and the images have an animation-cel smoothness and clarity. Royal purple, teal and muted brown contrast with the birds' roly-poly black-and-white bodies and bright orange beaks and feet. These neatly composed images, garnished with witty details, complement the straightfaced narrative.  
As she did in Cinderella Penguin (Viking, 1993), Perlman puts yet another twist on a classic with this satisfying retelling. Her emperor is as vain and proud as Andersen's prototype. In addition to the rather obvious spin on the species, she displays deft touches in her illustrations?the monocles and lorgnettes of the trusted advisors, the garden statuary, the Venus penguin rising Botticelli-like from the half-shell, and the proud emperor's robes sprouting equally proud peacock feathers. The artwork ranges from rather formal framed full-page masterpieces to small bewigged royal penguins scattered through the pages. One can never have too many versions of a story that gives the pompous their comeuppance and shows the honest innocence of the very young. This one is fun!?
Author & Illustrator
Janet Perlman lives in Montreal and is a writer and illustrator of funny children's books and a director of funny animated films. Her work has received international acclaim, including an Oscar® nomination and many festival grand prizes.
As a child Janet wanted to be a geologist or a stewardess. Her first job consisted of putting scented plastic roses into plastic bags. None of this portended a career in books and film, but as an art student, she found her passion for telling stories through her drawings. Janet now works in her home studio, where she creates most of her artwork in the computer.
The Emperor Penguin's New Clothes is one of a trilogy of penguinized retellings of fairy tales, which include Cinderella Penguin, and The Penguin and the Pea. Two of her books are based on animated films she made at the National Film Board of Canada: Cinderella Penguin (The Tender Tale of Cinderella Penguin) and The Delicious Bug (Dinner For Two).