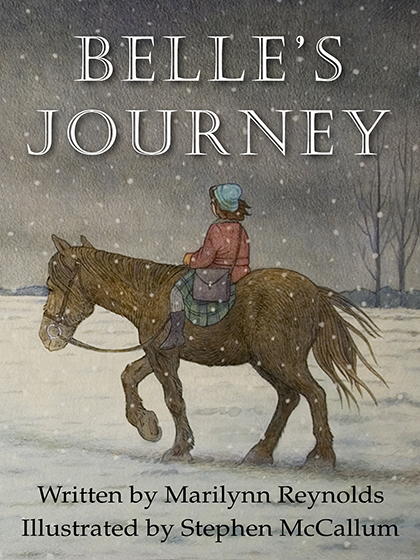 Belle is too old and stiff to pull the ploughs or the wagons anymore. In fact, Molly's horse barely earns her keep by carrying the young girl to piano lessons once a week. When Father wonders if they should get rid of Belle, Molly is delighted at the thought of prancing and galloping on a beautiful new pony. But one winter day on the way home from piano lessons, Molly and Belle become lost in a sudden blizzard. And Belle, old and stiff as she is, confronts the terrible storm with every ounce of will she possesses. No matter what, Belle will not give up until she brings Molly home.Set on the prairies during the twenties, Belle's Journey is a moving story of steadfast devotion and a heroic fight for survival.

Written by Marilynn Reynolds and Illustrated by Stephen McCallum

Recommended reading ages 4-10

Featuring read aloud narration by the author, Marilynn Reynolds.

Listen to a page from Belle's Journey.
Belle's Journey Reviews
Marilynn Reynolds's simple text and Stephen McCallum's quietly compelling illustrations result in a book as essential as biscuits and stew.
From the opening sentence and first illustration, Belle's Journey captures the look, feel and atmosphere of a flat, desolate yet beautiful prairie landscape.
"This tender but inherently dramatic story of a little girl riding her horse home through a prairie blizzard is all the more effective for the gentle understatement of both its text and illustrations.
Young readers will thrill at the dangers these two friends share and how the old horse saves them from death. An excellent book for young animal lovers"
Author & Illustrator
Marilynn Reynolds is the bestselling author of a number of picturebooks from Orca, including A Present for Mrs Kazinski, The Prairie Fire, The New Land, A Dog for a Friend and The Name of the Child, published in 2002. Her book Goodbye to Griffiths Street won the Christie Harris Award in 2005. Marilynn Reynolds was born in Sudbury, Ontario, but has spent most of her life on the Prairies. This life, combined with her mother's and grandparents' experiences growing up in wide-open spaces, gave her a wealth of story material and a unique look at early Canadian life.
Stephen McCallum is the illustrator of a number of picturebooks, including A Dog for a Friend, The Good Companion and The New Land.