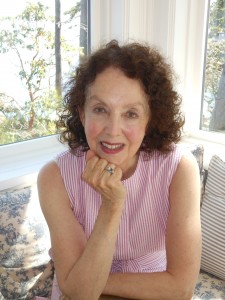 Children's author Marilynn Reynolds was born in Sudbury, Ontario, where her father worked in the mines, and spent her childhood in Nipigon, Vancouver and Calgary.  She enjoyed summer holidays with grandparents near Cut Knife and Unity, Saskatchewan, absorbing stories about the prairie that she eventually wrote about in her books for children.
After graduating from the University of Alberta with a BA in English, she worked as a reporter and book reviewer for The Edmonton Journal and was Edmonton editor of Western Living Magazine.
Marilynn was a free-lance writer for several years before publishing her eight children's books with Orca Book Publishers.  She now lives in Victoria where she continues to write.
Education
Banff School of Fine Arts writing scholarship
BA in English, University of Alberta, 1961
Diploma in Fine Art, Grant MacEwan University, 1984
Books
Belle's Journey, 1993  (translated into German, Japanese and Braille)
Included in Anthology "I Remember When" University of Toronto press
Included in German language anthology of true animal stories
A Dog for a Friend, 1994
The New Land, 1997
The Prairie Fire, 1999
The Magnificent Piano Recital, 2000
A Present for Mrs. Kazinski, 2001 (translated into Korean.)
The Name of the Child, 2002
Goodbye to Griffith Street, 2004
Awards
Belle's Journey
Canadian Children's Book Centre "Our Choice"
Shortlisted for Henry Kreisel Award for best first book by an Alberta author
Canadian National Institute for the Blind  "Tiny Torgi" shortlist
The New Land
Canadian Children's Book Centre "Our Choice"
American Book Association "Kids Pick of the Lists"
The Prairie Fire
Canadian Children's Book Centre "Our Choice"
American Book Association "Kids Pick of the Lists"
Nominee, Canadian Library Association "Book of the Year"
First Runner Up, Western Writers of America Storyteller Award
Shortlist, R. Ross Annett Award
Nominee, Alcuin Award for book design
Nominee, Amelia Frances Howard-Gibbon Award
The Magnificent Piano Recital
Canadian Children's Book Centre starred "Our Choice"
Amelia Frances Gibbon Award for illustration
US Storytelling World Honor Book
A Present for Mrs. Kazinski
Canadian Children's Book Centre "Our Choice"
The Name of the Child
Canadian Children's Book Centre "Our Choice"
Mr. Christie Silver Seal
US Storytelling World Honor Book
Nominee, Blue Spruce Award
Nominee, Chocolate Lily Award
Goodbye to Griffith Street
Canadian Children's Book Centre "Our Choice"
B.C. book award's Christie Harris prize for Children's Literature